1.1. Shipping Insurance: Overview
Navigation:
Listings > SSB Shipping Insurance > Insure My Item
In Sold, Paid and Shipped views, the Add Insurance action may be selected. This takes you to the Insurance workspace.
Overview:
Shipping insurance is provided through a third-party insurance provider and covers packages shipping from the United States and Canada via USPS, FedEx or UPS. Domestic and International packages may be covered, including USPS International 1st Class Mail.
When choosing to insure packages through SSB's insurance service, be sure to include tracking through your carrier.
1.2. Shipping Insurance Terms and Conditions
Shipping Insurance Terms and Conditions
Thank you for using our insurance program. Please read the Terms & Conditions at the following link to be sure your items qualify for the insurance program. 
View our complete Shipping Insurance Terms & Conditions
1.3. Shipping Insurance: Funding Your Account
Overview:
Before you can insure any packages, your insurance account must be funded.
How to Fund Your Insurance Account:




You will be redirected to Paypal. Login to Paypal and follow the instructions to complete the transaction. You will be returned to SSB when the payment has been accepted.

As items are insured, we debit your insurance account. The balance remaining on this account is always displayed for convenience.
1.4. Shipping Insurance: Add Insurance
How to Add Insurance to your Item:
In order to add insurance, your buyer must have checked out and your item marked as shipped either via eBay or SSB's Mark as Shipped action. If you try to add insurance to an item that doesn't meet these criteria, you will receive an error. You must add insurance within 48 hours of having shipped your item.

We depend on transaction data sent to us by eBay. Please note there is generally a 2-minute delay in updating the eBay Items views as we collect fresh transaction information from eBay.





Our system automatically fills in the needed information to insure your package based on information sent to us by eBay about your transaction.

The item number is displayed, followed by the Carrier and Service Name. The carrier and service name must match the actual one used to ship your package, otherwise, your insurance purchase will be disqualified. The tracking number is imported from eBay.

The declared value is the total including shipping and handling. You may change this to the actual value of your item.

The Package Description should always include the eBay Item Title. This is automatically inserted. You may add to this description if needed.

The Seller and Buyer information is shown. This may not be changed and must reflect what is on record at eBay.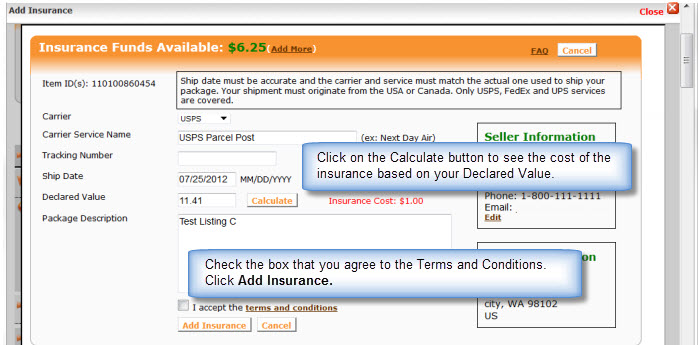 You will reach an Insurance Confirmation page that displays a confirmation number. This number is your unique insurance ID for this package and is reflected in your insurance history.

Click Continue and you will be returned to the eBay Items pages.





Note: Our system will prevent you from adding insurance if your carrier already includes insurance for certain values.
IMPORTANT
Only items that you launched from SSB will appear in Active and Sold views. If you list an item from SSB and it ends, and then it is relisted or sold similar from eBay (new item number generated) and that new item sells, it will not appear in the Sold view at SSB.
To add insurance to such an item, first import the transaction to SSB. To do this, input the item number of the sold item within the search box at the upper right hand corner of the page and click search. The transaction for your sold item will be obtained from eBay. You may need to navigate to eBay Items Launched and back to sold view to see the transaction. To avoid having to import items, please try to perform your relists and sell similar activities from SSB whenever possible.

Shipping insurance does not support combined shipments at this time. Should you wish to insure a package where multiple paid items will be shipped to one buyer, please contact our help desk for assistance and we can provide a workaround.

Before you decide to insure your item through SSB, please check to be sure your sale has been recorded in Sold view first!

Currently, it's not possible for our members to directly cancel (void) an insurance transaction. Should you purchase insurance and change your mind, please contact our support desk for assistance. An insurance purchased may be canceled only within 24 hours and only if the package hasn't shipped.
1.5. Shipping Insurance: History and Claims
How to view Insurance History and File a Claim:




Note: Seller Sourcebook does not handle insurance claims directly. All claims must be made directly to the insurance carrier.