Home → Listings → Other Marketplaces - Code copy and paste method → Other Sales Venues: eBay Sell Your Item Form
4.2. Other Sales Venues: eBay Sell Your Item Form
If you are selling on eBay US, AU, CA, UK, or eBay Motors US you also have the option of using the SSB Listing Launcher rather than the Sell Your Item Form. 
For instructions on how to use the Listing Launcher see the Related Pages section at the bottom of this page.
New Users: We recommend that you first learn the basics of our program by reading the Getting Started Guide accessible by clicking on Getting Started on the left menu under Knowledge Books.
How to Copy Your Listing Code:
For instructions on how to copy your listing code see the Related Pages section at the bottom of this page.
How to post your code on eBay:
Log into eBay and click on
Sell
.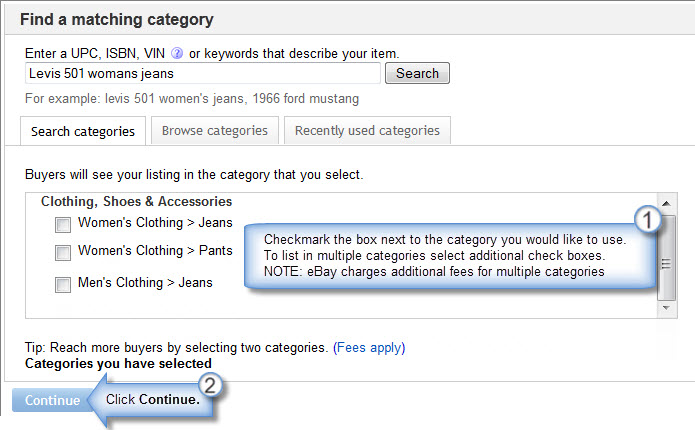 Create Your Listing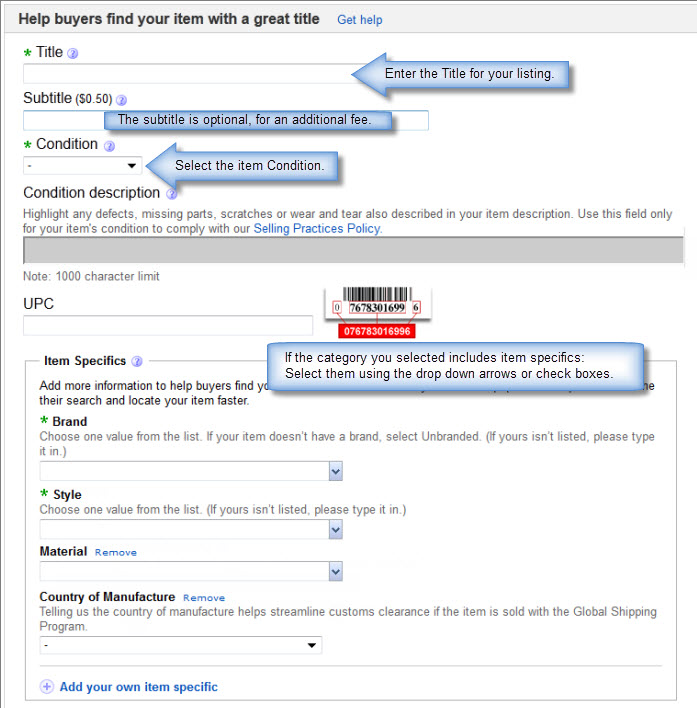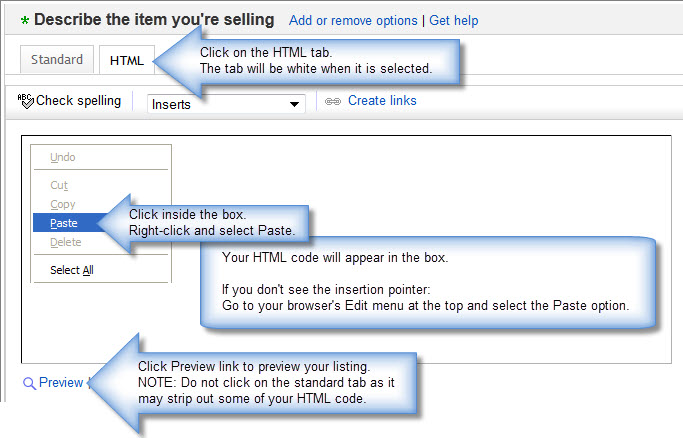 NOTE: Word saves proprietary tags in its Rich Text format. eBay's SYI form will not work well with these tags. SAVE AS a text file and paste it into the HTML view.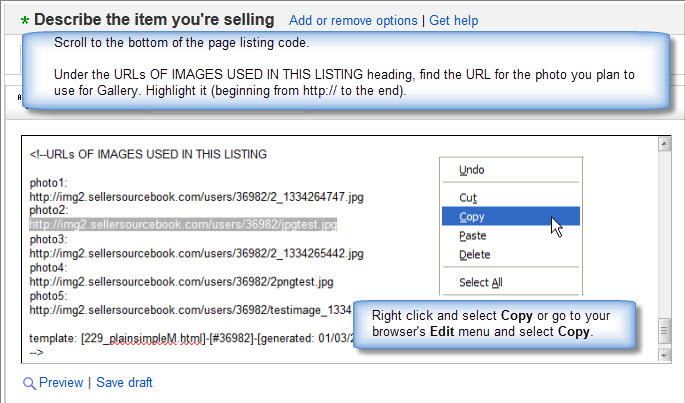 Now this URL will be on your clipboard and ready to paste when needed for the Gallery image (you could also have gotten your URL by opening a new window to your SSB Image Manager and copying the URL that is shown below your photo's thumbnail, but this is much easier and you avoid having to go to your Image Manager).
Adding A Gallery and Preview Picture
Go back up to the Pictures section on eBay.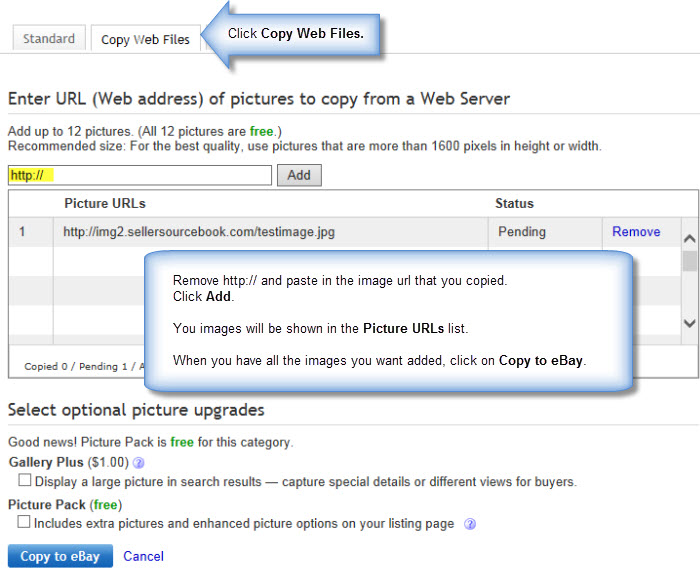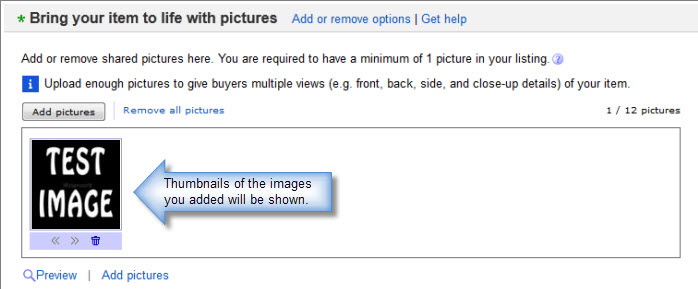 Enter Additional Listing Information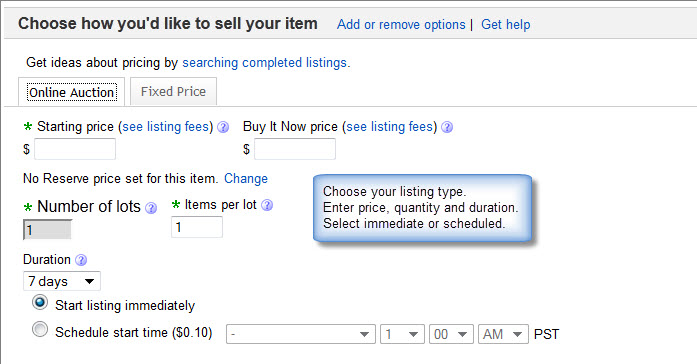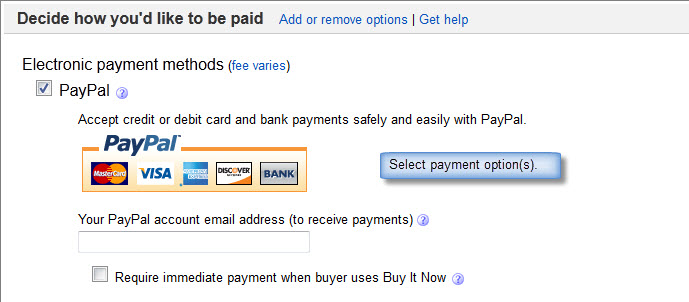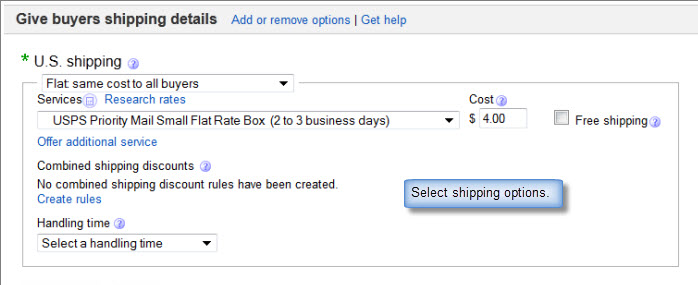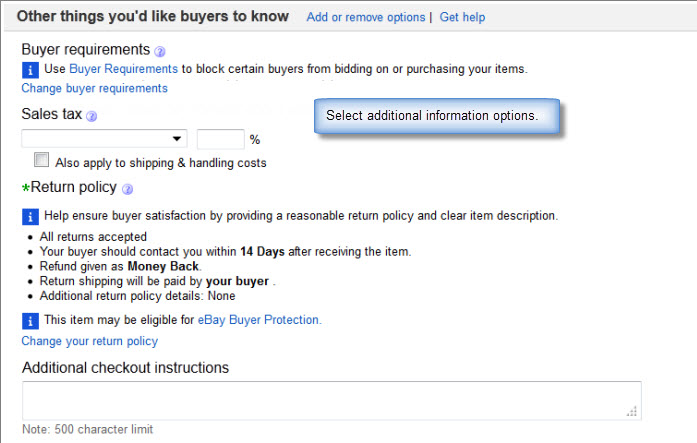 Review Your Listing




NOTE: If you are unable to reach the last page (Promote and Review Your Listing), and receive this error message instead: Please check your picture URL (Web address); they typically start with http://. Paste the entire URL into your browser to see if it displays the picture. Go back to the Pictures section and click on the Add Pictures button. Delete any extra space before your URL and then click on the Insert Pictures button. Scroll to the end of the form and click on the Save and continue button again. This should clear the problem.