Home → Listings → Listing Utilities → Listing Utilities: Template Gallery
2.2. Listing Utilities: Template Gallery
Navigation:
Listings > Template Gallery
Overview:
The Template Gallery allows you to browse among our template selections. It's often the first place new subscribers visit to explore the variety of templates available. We have many choices and to make it easier for you, we have placed the templates into categories. We also include a search box that allows you to use keywords to find a template that best coordinates with the item you're selling.
How to select a template category:
When you first reach the Template Gallery, you will find yourself in the All Templates category. To choose a different category, click on the selector and a list of all categories will appear. To select a category, click on it and the page will refresh to show you all the templates in that category. There may be more than one page to a category, and if this is the case, you may use the go to page selector just above and below the template thumbnails.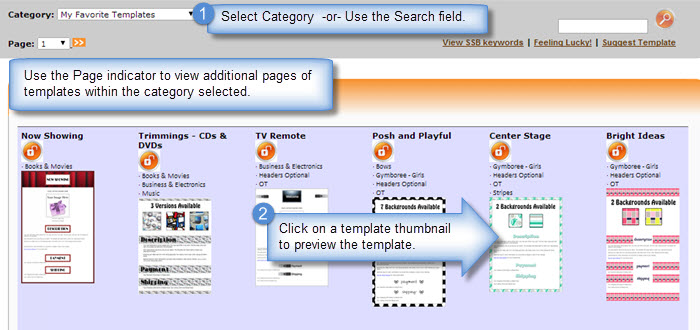 How to search for templates:
Enter one or two keywords in the search box and click on the Search button. The templates that match your search will appear in order of relevance, with the highest relevance toward the beginning.
Are you Feeling Lucky?
Clicking on this link will return a row of four randomly chosen templates from our Template Gallery. It's a fun way to explore our Template Gallery. The next time you click on the link, another four templates will replace them. We do not retain these template selections, so if you see a template you like, add it to your favorites right away!
How to add templates to your favorites:
To add a template to your favorites, click on the

icon that appears by the template thumbnail.
Once you have added a template to your favorites, a My Favorite Templates category will appear toward the top of the category selector. Next time you visit the Template Gallery, the My Favorite Templates category will open by default.
How to preview a template:
To preview a template click on the template thumbnail. A page will pop into your view showing the full-sized preview. You may return to the Template Gallery by clicking on the Close button at the top.
How to select a template:
You may select a template while on the preview page. Icons at the top of the page will take you to either the main Listing Generator or the About Me Page Generator.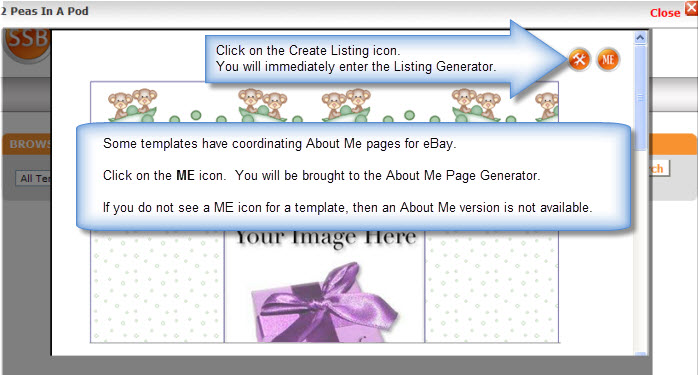 Make It Your Own (MIYO) Template
We have a special category of templates: the Make It Your Own or MIYO templates. These templates allow you to create a unique template that might better suit your needs. What's unique about them is that you are allowed to use your own images to create a background for the border. MIYO templates can have either single or double borders.
If you're planning on using a MIYO template, be sure you have first uploaded some images to your Image Manager. Smaller files of 400 pixels or less in width work best. If you haven't uploaded images for your backgrounds in advance, you will be given the opportunity to do so within the Listing Generator. In addition to using your own images, we offer a library of images accessible within the Listing Generator.
To use a MIYO template, select the Make It Your Own category. Click on the template thumbnail of the template you wish to use. On the preview page, you will see options for this template. After selecting them, click on the Create Listing button. You will be brought to the Listing Generator.
Custom Templates
If we have installed a custom template for you, you will find it in the My Custom Templates category of the category selector. Please note this category does not exist until one custom template has been added to your account. For information on having custom templates added to your account, please contact our help desk.