Home → Bonanza Items → Bonanza Items Launched → Use Sell Similar from a Launched Listing
2.1. Use Sell Similar from a Launched Listing
Navigation:
Listings > Bonanza Items > Launched
How to Sell a Similar Listings from Bonanza Items Launched: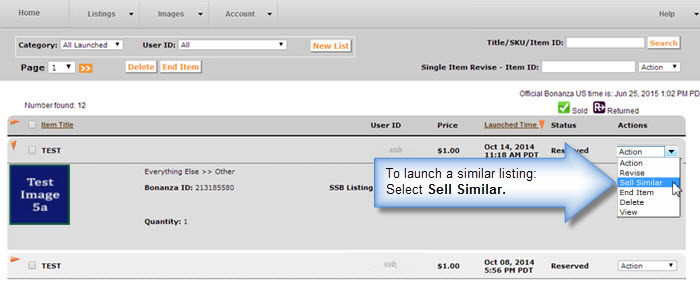 You will be returned to the SSB Listing Generator where you may make changes to your images, title, or item description. You may even change the template.

You will reach the Listing Launcher page, with your previously selected options (including Category, Start Price and Shipping information) intact.
Please review your information on the fees page.  If everything is accurate click on Launch Now to launch your listing.
You will reach a confirmation page.
Should you change your mind about selling a similar item, click on the Cancel button.